Trim Tab Systems
Self-Leveling Tabs
Lorem Ipsum Dolor Sit Amet
For boats over 20 feet check out either our electric, classic or sport hydraulic systems.
A simple, durable, and affordable trimming solution for smaller boats. Quick and easy installation with nothing to do inside the boat – just mount the actuators and trim tabs on the transom and enjoy the benefits.
Three mounting options to easily change lift
Plane at lower speeds
Improve fuel efficiency
Eliminate porpoising and chine walking
Improve your hole shot
Reduce engine laboring and improve fuel efficiency
Designed for rougher conditions and higher speeds, the BOLT1216HD (12" span x 16 chord") heavy-duty electric trim tab system features an adjustable upper hinge actuator and requires less than 10.25" of vertical transom height. The high-performance laser-cut, tapered trim tabs are manufactured with extremely durable 12-gauge, electro-polished stainless steel, featuring a full-profile backing plate, and up-fins for added strength.
(2) Stainless steel trim planes (tabs)
(2) 20ft. harnesses with waterproof connectors (BAW2020)
(2)  12-volt actuators with 6ft. wire harnesses and waterproof connectors (BEA2000 OR BEA3000)
Controls Sold separately
Are you a reseller needing a high resolution image of this product? Simply visit our Image Database and search for the part number or product name.
To find documentation for this product, visit our Owner/Install Manual Library and enter in the part number or product name in the search bar. Here you'll be able to locate general product information, wiring schematics, installation drilling templates etc.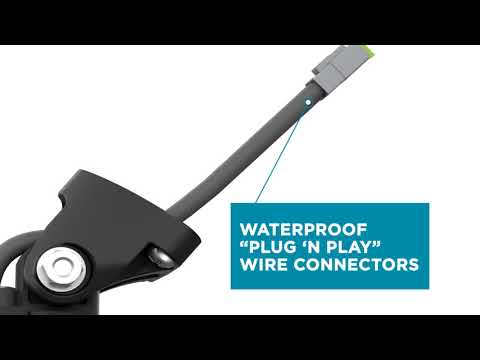 3D Features Animation
The items on this list have been identified as subject to California Prop 65 Warnings. Contact Bennett Marine for questions about specific items as needed.